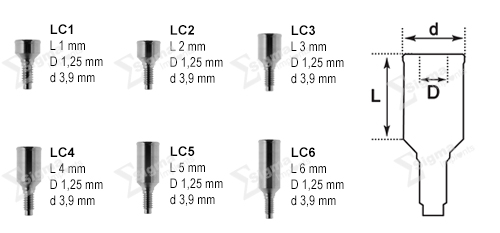 The Sigma Loc attachment is an effective and easy solution for overdenture restoration. Sigma Locator system increases the opportunities for removable implant prosthetics. The system offers a variety of options for gingival height and retention for a wide range of cases. All these attributes allow the patient to easily seat the overdenture.
Internal hex 1.25mm. Diameter 3.9mm. Ledge 1, 2, 3, 4, 5 and 6mm.
Pay attention
that Sigma Locator also requires
metal
and
silicon caps
.
Compatible with Cortex, Zimmer, Alpha Bio, AB Dental, Hi-Tec Implants system (Tapered Self Thread), ADIN, Alpha Dent