Dental Implant System Sigma Classic is a system with 2.4mm internal hex connection.
Country of origin. Made in Germany.
Sigma Classic Implant Design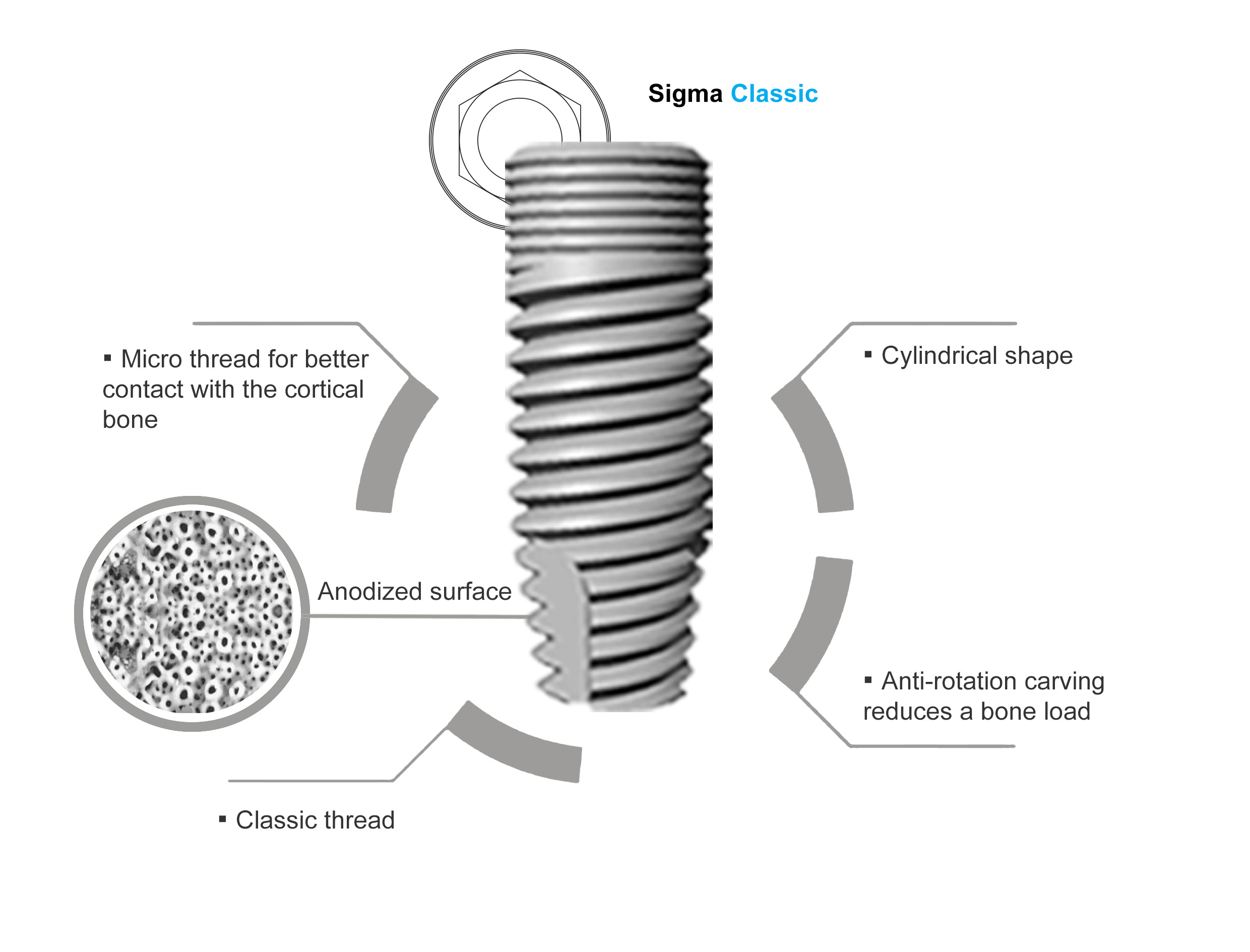 Implants sizes.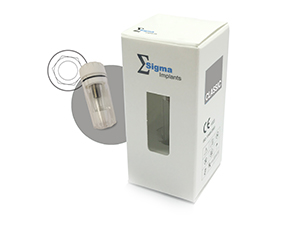 Material. Sigma Classic Implants are manufactured of Grade 4. Grade 4 Pure Titanium features unique mechanical properties, such as high resistance to fractures and excellent biocompatibility. Extremely stable and passivating protective effect of the oxide film makes Titanium highly resistant to corrosion.
Surface. Anodized surface with high hydrophilic properties.
Clinical cases. Sigma Classic Implants are used for all types of bones, especially for I and II types.
Platform. Internal hex 2.4mm.
Compatibility. Sigma Classic Implants and prosthetics are compatible with Sigma Active Bio, Zimmer, Alpha Bio, AB Dental, Hi-Tec Implants system, ADIN, Alpha Dent, Cortex.
Quality standards:

 
CE certificate, ISO 13485:2003

Surgical protocol.
Orthopedic elements. Sigma Implants System has all necessary suprastructures: healing abutments, implant replicas, impression copping's, ball attachments, multi units, plastic abutments, etc. A wide range of types and sizes allows you to perform the implantation for a single implant, full rehabilitation of edentulous jaws, and such technic as all-on-4, etc.
Tools. A wide range of instruments, drill bits, drivers, wrenches, etc. allows to work successfully not only with Sigma Active Bio and Sigma Classic Implants, but with many other systems with internal hex connection (Zimmer, Alpha Bio, AB Dental, Hi-Tec Implants system, ADIN, Alpha Dent, Cortex).
Guarantee.
Sigma Dental Implants have a lifetime warranty. In case of rejection, we are obliged to replace the damaged implants for free (to find the exchange procedure see the Returns & Exchanges
page
)
Delivery. Worldwide delivery within 2-9 business days. We send orders from warehouse in Germany. Our shipping partners: FedEx, DHL. Free shipping for orders over 600€
OFFER:
Buy 40 Implants Classic + Buy 40 Abutments - Get Surgical Kit as a Gift (save 600€).
Voucher code: classic kit

Compatibility:  Alpha Bio®, Zimmer®, AB Dental®, Hi-Tec Implants system®, ADIN®, Alpha Dent®, Cortex®