9 CRITICAL MISTAKES DENTISTS MAKE SELLING DENTAL SERVICES
AND WAYS TO SOLVE THEM


THE FIRST MISTAKE: THE LACK OF COMPETITIVE POSITIONING OF YOUR DENTAL CLINIC
Every day we see more and more students are graduating medical school and become doctors. Every month in each city opens new clinic, and sometimes several in the same street. Struggle with competitors is becoming harder and harder. As a result of this situation you have more and more gaps in your schedule.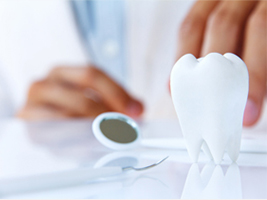 So why ones on the market of dental services part of dental clinics are trying to survive by working at a low price, while others busy schedule two months in advance, and the cost of treatment is rather high?
One of the major mistakes of dental clinics is the lack of competitive positioning your dental clinic among many others clinics. You have to answer a question – why the patient should come to your clinic but not to your competitor. What competitive advantages do you have? In case you don't ask such questions you have patients who come to you, because competitors clinic is one stop further than your or because you are cheaper. These are not the advantages that will help you to sell more of your services. One day these patients will change your clinic to another one, which will be closer than yours or will have lower prices.
Conclusion: Make your clinic unique for patient. Build an image of your clinic on your competitive advantages: innovative technologies, a lifetime guarantee for dental implantation, a unique service and others. Put yourself to the patient's place and think about what services and features of the clinic would be attractive for you. If you won't do this, your competitors will do and take all the patients in your area.
If you understand this too late, it will be harder for you to lure patients, because patients do not leave their doctor ...
THE SECOND MISTAKE: FORGETTING ABOUT PATIENTS AFTER THEIR PAYMENT
Let's see the situation when the doctor finished orthopedic treatment and says goodbye to the patient, wishing all the best. The patient leaves, getting what he expected - qualified treatment...
To continue reading the book, please register and receive an email with a link to download (+ bonus: Healing Cap for free!). Check all folders including Spam.