About Titanium Dental Implants Sigma
Sigma Implants Ltd is the manufacturer and supplier of dental implants, prosthetic elements and tools for dental implantation.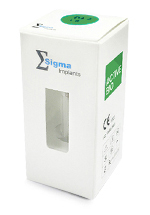 Based on years of experience and researches in implant dentistry, we developed Sigma Implants implantology system. Titanium Grade 5 is the material which used for the manufacturing of titanium dental implant Sigma. It is the ideal material for osseointegration process. All Sigma Implants have anodized surface. Numerous clinical tests confirm: long-term stability of the implant depends on its macromechanical properties and surface structure.
Characterized by different thread types, large variety of length and width, Sigma titanium implants match all bone types. A variety of universal prosthetic elements solves all sorts of clinical situations, ensuring excellent aesthetics.
Sigma dental implants products comply with the international quality standards, also being approved by the European authorities (CE certificate and ISO 13485:2003).
Connection
Cone platform
Internal hex 2.4mm
Internal hex 2.4mm
Implant and abutment are combined
Internal hex 2.0 mm
Material
Grade 4 Titanium
Grade 5 Titanium
Surface
SLA
Anodized
Quality standards
ISO 9001: 2000, CE certificate, ISO 13485:2003
Clinical case
all types of bones
all types of bones
all types of bones, especially for type I bone
all types of bones
for temporary restoration, between permanent implants, for installation on a narrow ridge or between closely spaced teeth
Feel free to contact our consultants for more information about products, price or terms of our Online store. Our e-mail is sigma.implants@gmail.com, tel. +44 33 000 10 427, and also you can request a call back filling special form on our site, apply to the online chat on the website or write us through the contact form.